We all perform better with a good team around us. Any CEO with an ounce of sense will mention his/her team as the driving force of his success, but does it really matter if employees are engaged? Surely the key is whether or not customers are satisfied?
In service organisations (which dominate the Irish economy), it very much does matter. In these organisations the brand lives or dies when the customer is using the service that you're providing. Unlike product brands, whose promise is delivered in the quality of the product that is being consumed, service brands depend on the behaviour of the people in the organisation as they interact with customers on the ground, or work together in the background to craft the best solution for customers. A very pertinent illustration of this is playing out in front of us in the Irish healthcare sector at the moment.
There is strong evidence to show the link between staff engagement and the experience of service users in healthcare. Kings Fund research in the UK in 20121 showed that the more positive the experiences of healthcare staff at work within an NHS Trust, the better the outcomes for patients in that Trust. Staff engagement was found to have many positive significant associations with patient satisfaction, patient mortality, infection rates, as well as staff absenteeism and staff turnover. There is a direct co-relation between the level of engagement and positive health outcomes – the more engaged staff members are, the better the outcomes for patients and the healthcare service provider generally. Food for thought surely for our new Minister for Health, Simon Harris.
It is unsurprising that this equation is also evident outside the healthcare environment. Tempkin Group published the fifth instalment of its annual survey of US employees in February this year and the research evidenced again that those companies with more engaged employees enjoy stronger financial performances and deliver better customer experience than their peers.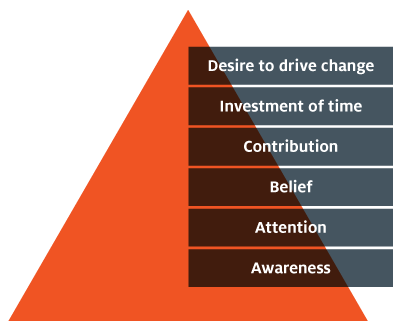 At W5, we consider employee engagement in the context of Gideon Rosenblatt's 'engagement pyramid' (see illustration). This sets out the steps required to create employee awareness of the need to manage customer experience to becoming leaders, driving great customer experiences with themselves as at the centre. Commitment to this process creates the Holy Grail – the customer-centric organisation – from which many tangible benefits flow for the business.
To create momentum towards customer-centricity and generate these benefits, we have a few tips-
Make it easy for employees to be involved in any customer experience management programme. We have all worked in the organisation that talked about 'putting customers first' and 'our people are our best asset' but employees who really focused on customers were often called out for holding up progress and /or underperforming on profit targets in the short term. Humans are naturally empathetic and in our experience, employees want to do their best for customers. As Ian Golding said in a recent blog 'by instilling a culture of "yes you can", rather than "we don't do that", we can unleash the emotional bond that can be generated between people – customers and employees'.

Show everyone in the organisation where they fit into the big picture and encourage them to map their own path to the customer. A customer centric strategy will only be successful if all parts of the organisation – including back office services like IT, billing and accounts – are engaged, understand their role in the bigger picture and are committed to doing what it takes to drive change. This means that leaders need to share a consistent story, setting out compelling reasons why customers matter and demonstrating their commitment to them through company values, policies and their own behaviours.

Make the communication of customer feedback and performance results part of the fabric of everyday company communication and encourage people to ask questions at every stage. The Toyota 'Stop the Line' manufacturing technique, where every employee on the assembly line has a authority to push a big red button that stops everything whenever they notice a defect on the line, is the most celebrated example of this. The Toyota system is in existence for more than half a century but how many of us can hand-on-heart say that our employees are empowered to stop the line, even metaphorically?

Align the communication of results from your customer experience management programme with employee needs and targets for improvement. Apple Retail surveys employees every three to four months to determine how the company can make each store a better place to work. Apple calls this programme Net Promoter for People (or NPP). The democratisation of results focuses on enabling employees to identify problems and find solutions that they believe must be addressed if customers are to be delighted. This helps the front-line team members at the store have a productive dialogue that provides the basis for mandatory all-hands

meeting

s.
Finally, it seems obvious, but two further important aspects are: to ensure appropriate training and coaching is in place when feeding programme insights back into the organisation and to celebrate the great and communicate key areas for improvement.
Or… you could avoid all this investment in employees altogether and use the Giff Gaff approach.
Giff Gaff (an old Scottish Gaelic word which means 'mutual giving') is a virtual mobile network which has no customer service phone lines. Yes, you read that right! Non-account specific problems are raised via an online message board system and are answered by other Giff Gaff members, in exchange for 'payback points'. Launched in 2009, Giff Gaff acquired 400,000 members in 2014 replicating 2013's growth, to become the third largest player in the virtual mobile space.
Given the experience many of us have with our mobile providers they have likely succeeded because of, not despite, the lack of customer service lines.
W5 works with leading organisations to transform their customer experience, enabling them to deliver their brand promise every day, in every way.
If you are interested to learn more about how we can help you deliver consistently excellent customer experience, contact our team at (+353) 1 4973400 / info@W5.ie or Managing Director Tim Farmer at tfarmer@w5.ie
1 Employee engagement and NHS performance, West and Dawson, The Kings Fund 2012